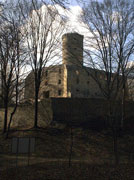 Chrzanowski Poviat is an industrialised area. Alwernia, Chrzanów, Libiąż and Trzebinia are significant centres of chemical, energetic, mining, machine, construction, clothing and comestible industry. The most famous institutions are: Rafineria Trzebinia S.A., Zakłady Chemiczne "Alwernia" S.A., Zakład Górniczo-Energetyczny "Janina", Południowy Koncern Energetyczny S.A. w Katowicach Elektrownia "Siersza".
Simultaneously, besides large percentage of usable areas (44,2%) proving industrial character of poviat, there are in Chrzanowski Land areas of pure soil. Chrzanowski Poviat has rich and differentiated landscape. Forests and forest areas are 36,5% of whole area of poviat. It is more than average for country and region.
Favourable environmental and landscape conditions and natural water reservoir, create wide range of possibilities of usage these values for recreation purposes. Number of monuments, well developed base for sports and recreation and cultural base make Chrzanowski Poviat a perfect place for weekend tourism (number of tourist routs, bicycle paths).